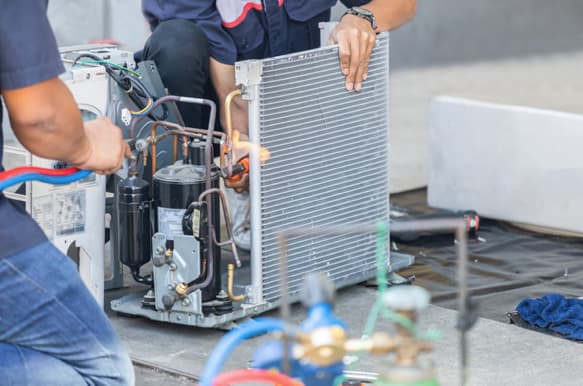 What are the Benefits of Commercial HVAC Maintenance?
When it comes to any heavy equipment, you should ensure it is properly functioning for various reasons; the main one being that it is expensive to replace. From our team of trained professionals at Air Temp Mechanical Services, we're here to share the benefits of investing in commercial HVAC maintenance.
Save Money
As business owners, we know that you are searching for ways to save money by avoiding unnecessary purchases. With scheduled maintenance, you can prevent spending money on unplanned repairs. Though it will not prevent all commercial HVAC problems, it will reduce the number of emergency fixes.
Longer Equipment Lifespan
You will increase your longevity by taking preventative measures to protect your equipment. Replacing a piece of equipment is costly, so you should ensure it is regularly inspected. Extending the life of your commercial HVAC will prevent the numerous times you have to replace it. If you upkeep your equipment, it should last 15-20 years.
Increase Energy Efficiency
Did you know that according to the U.S. Department of Environment and Energy, a typical commercial HVAC employs 40% of the total building energy consumption? That's almost half! High-performance equipment can reduce energy consumption by 10-40%. Caring for your system will consume less energy as it is in its best condition.
Greater Air Quality
Dirty coils and blower parts in your commercial HVAC system increase containment buildup, such as pollen and fungi. The dirty equipment may cause health problems due to the poor indoor quality. If you want your building's air quality to improve, consider a regularly scheduled maintenance routine on your equipment.
Priority Service
Once you have a maintenance plan, you will build a relationship with your service provider. The technician will understand your equipment which is essential in case you need an emergency repair. You will always have someone to count on to ensure your HVAC system is in good working conditions.
Contact Us Today!
Are you interested in getting your commercial HVAC maintenance but unsure who to reach out to? Known as Connecticut's first choice of HVAC service provider, Air Temp Mechanical Services provides industrial, institutional, and commercial mechanical services for business owners.
Get in touch with us at 860-953-8888 or fill out a form for assistance.